As we're about half way through the winter season (was Christmas really TWO months ago?!?), I think we're all starting to feel the cold weather and busy schedules catch up to us. It feels like everyday is a Monday…and that's not good.
The winter blues may be bringing you down, but here are some ways to pick yourself back up, get refreshed, and make your dreary days bright again!
1.

Watch Your Favorite Movie

: while this may seem pretty obvious, it works every time. Get your stuff done early, then settle into bed with a warm drink, your laptop, and your go-to comfort Movie (Mine is Little Women: Young Christian Bale and Winona Ryder are my favorite <3)

2.

BATH BOMBS

: If you aren't already addicted, you're going to be after this. One of my favorite things to do when I'm cold or just need a break is put on Norah Jones, grab a book, and toss a bath bomb into the tub. If you haven't joined the bath bomb craze yet, I recommend these ones from Target that come with a whole bunch and are pretty cheap (a bit smaller, but still good!) or if you feel like splurging, Bath and Body Works has started selling some awesome ones as well!

3. Create a happy playlist for yourself

: include all your favorite songs, ones that make you happy, ones that you want to dance to, ones to sing in the car, ALL THE SONGS! Give it a fun title, and Bam! A certified mood booster you can carry with you wherever you want! If you're looking for some inspo, here's mine : Grace's Happy Jams!
4. Buy yourself a Valentines Day Gift : we all get in the mood for something sweet to eat, and now that Christmas is over, we have moved into an entirely different category of delicious delights : VALENTINES DAY CANDY. Find your nearest store and stock up on some treats the day after V-Day to help yourself get through the rest of winter (The groundhog said six more weeks right?). And while your friends say you do not need the stuffed monkey holding a heart that says "I'm Bananas for You!", we both know you totally do.
5. COMFY CLOTHES ARE THE BEST : find your favorite sweater, the socks that are WAY to colorful but you wish were okay to wear in public all the time, and snuggle up with your pet. Lazy days are not just for the weekend anymore. Who says you can't change into your PJs as soon as you get home? No one. no one.
6. Find A New Favorite Book : One of my favorite websites is called Goodreads! It's a place you can track all the books you read, keep up with what your friends are reading, and get recommendations based on what you read! One of my new favorites is called A Darker Shade of Magic by V.E. Schwab, set in Victorian London with lots of magic and some bada** female characters!
7. Do a Little Redecorating : Move around some of the art on your walls, buy a cute little plant to sit by your window, clean out that one drawer (we all have one). Help yourself get in the spring-y mood with some pre-spring cleaning! Looking for some new things to brighten up your room? My favorite stores for random items are TJMaxx, HomeGoods, and Ikea! Search Pinterest for some new ideas as well!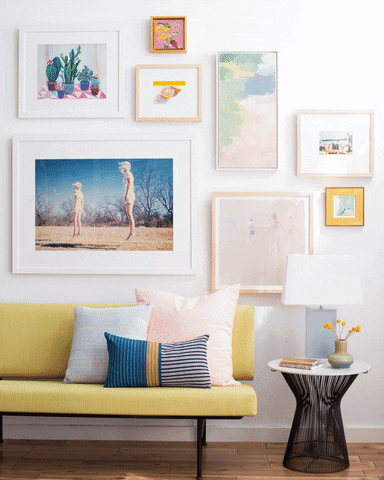 That's all for now! What are some of your favorite ways to turn your frown upside down?